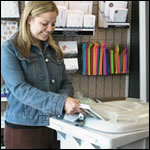 Atlanta drop off shredding is a great option for shredding jobs
that are smaller in nature. Many individuals and small businesses have small scale shredding needs where having a mobile shredding service come out to a business or residence does not make economic sense. 
In these cases Atlanta drop off shredding may be the best option. Here's how it works: take your documents to a drop off center (here is a list), give your documents to one of the drop off shredding employees, pay a small fee (usually around $1 per pound), watch as the employee deposits the documents into a locked drop off shredding bin.
Sometimes but not always the drop off center may provide you with a certificate of destruction but one drawback is that most of the time there is no certificate of destruction because there may be anywhere from 10-30 different sets of documents in the same bin. The bins are locked by a certified shredding company and cannot be opened by anyone but the shredding contractor that shreds your documents.
Here is a list of our Atlanta drop off shredding locations:
If you have questions about what Atlanta shredding service would be best for you or your business, give us a call at (404) 592-5113 or fill out the form to the right. Our Atlanta shredding experts are standing by to help you with your document shredding needs.